EXHIBITION
04.09.2018
— 30.09.2018
Dos días amarillos – Beatriz Daza
Beatriz Daza, ceramist, and painter from Norte de Santander (Pamplona, 1927 – Cali, 1968), stands out in the history of the visual arts of the 20th century in Colombia for her knowledgeable painting techniques and her rigorous research around ceramics and its forms, procedures, textures, and colors.
In 1963, with her work Crisol para Prometeo, she won the first prize in ceramics at the XV National Salon. Daza is also recognized for her work teaching for several years at the School of Fine Arts of the National University.
Image:
Dos días amarillos, 1966 (Detail)
Porcelain, glass, ceramic, plaster, metal and paint on wood.
Colección MAMBO
Cuadrícula:
María Elvira Ardila
Artistas participantes:
Miguel Ángel Rojas, Fernando Arias, María Elvira Escallón, Ana Patricia Palacios, Elkin Calderón, Mario Opazo, Rodrigo Facundo, Alicia Barney, Beatriz Grau, Liliana Durán, Diego Robayo, Ana María Rueda, Eduardo Villanes, Juan Fernando Herrán, Fern Shaffer, Miler Lagos, Andrés Gaitán, Santiago Vélez
"Being the most important Colombian ceramist for more than a decade, Beatriz Daza accomplishes a wonderful combination of ceramics, painting, and relief. She executes this with the same quality and dissatisfied and exploring spirit, which characterized her period as a pure ceramist." – Marta Traba
This work, made in 1966, belongs to the series of reliefs in which the artist used plaster casts and ceramic fragments. Unlike other reliefs, this piece combines paint and ceramic. In her work, it is evident the influence of diverse artistic currents of the European avant-garde, such as collage.
During the month of September, this piece will be exhibited at the Marta Traba Gallery of the Museum.
Sala Marta Traba - Museo de Arte Moderno de Bogotá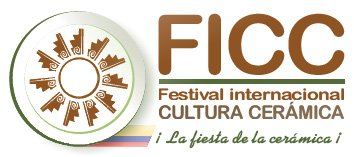 For more information on FICC 2018 visit: https://ficceramic.wixsite.com/ficc/ficc-2018